The four-colour quadrant graphic and Whole Brain® are registered trademarks of Herrmann Global, LLC. ©2015 Herrmann Global, LLC
Golf mindset.
Evolve your mindset in every situation with a proven, powerful program to reach even greater heights of golfing performance.
The Beyond The Green method has attracted top golfers and legends of professional sport. Read the testimonials here. Uncover intriguing insights into your game and course management, particularly when you are feeling under pressure.
Andrew Crockett has been featured in:
Invest in yourself.
Understanding your predispositions and tendencies is a valuable tool to sharpen the top end of golfing performance.
In 3 short videos watch as Andrew shares some of his insights on mindset, how it informed the legends of golf, and how the Beyond The Green method can help you.
The Greats
Andrew shares some insights gleaned as a golf journalist spending time with many of the golfing greats, including Peter Thomson, Kel Nagle, Jack Nicklaus, and many others.
Monkey Business
Does pressure ever feel like a monkey on your back which throws you? Andrew touches on some of the key mindset issues that can affect your game and how the Beyond The Green method can help you overcome them.
Not Psych-babble
Andrew talks about what the Beyond The Green method isn't, and how it can help you.
Is now the time to improve your game?
Most golfers know when they have reached the 99% on their swing mechanics and realise that it is their mental game that could do with some sharpening.
Get started today. Within a few days you can have personalised insights to help take your mental game to a higher level, through a unique understanding of yourself that enables simple strategies to adopt on the golf course, in practice and with coaches and other professional advisors.
Flexible Investment

Whether you are an amateur golfer or a professional, the program caters to your specific needs and budget.

Tailored Program

The program is tailored to the individuals preferences, to help the golfer head towards their optimal performance, under pressure.

Real-Time Feedback

Receive immediate feedback, with our certified HBDI practitioner, during your 90-minute debrief. Open up clear  pathways that enable the individual several tangible methods to work with.

Know Thyself

Once the golfer understands the basic principles of the Beyond The Green method, it affords them a valuable insight into themselves that is showing positive results on the golf course.

Mindset+

Discover more about your thinking process, under pressure, with the highly validated HBDI and Beyond The Green method. Uncover and learn aspects about yourself that can improve your golf game.

Transformative Insights

Leverage the power of mindset to improve your game. Learn your natural strengths (that may be hidden) to gain an edge in your practice sessions and also when in the competition setting.
Testimonials
From dedicated amateur golfers, golf coaches, professionals and legends of professional sport.
Here's a few kind words from them.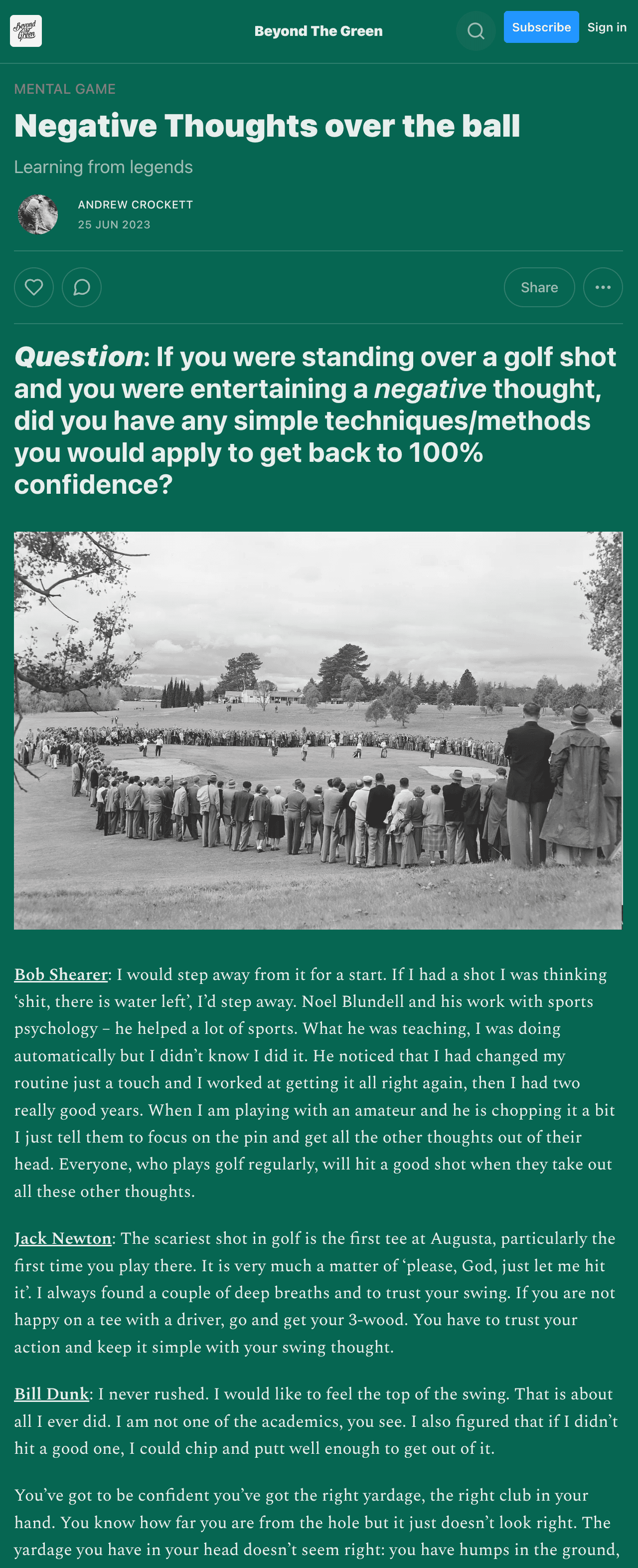 Beyond The Green Substack
The Beyond The Green Substack delivers a wealth of golf news, insights, and commentary from Andrew Crockett.
Get a 12-month subscription to exclusive subscriber content with your purchase.
One simple price
For access to the Beyond The Green method, professional analysis of your results, a 90-minute de-brief with certified HBDI practitioner Andrew Crockett, a 12-month subscription to the Beyond The Green Substack, book now.
VIP
$495 (incl GST)$1,990
You're a serious golfer ready to take your game to the next level. Get started today.
Access to complete the highly validated Hermann Brain Dominance Instrument® (HBDI®) which measures thinking preferences of individuals

Analysis and preparation of your results

Downloadable HBDI mobile app (available from App Store and Google Play) with unique access key to peruse your personal results, before your individual debrief

90-minute video call with certified HBDI practitioner, scratch golfer and golf historian Andrew Crockett to discuss your results and how to improve your game

A personalised digital report including analysis and recommendations

Ongoing email and phone support

Access to exclusive content from ongoing golf performance research

12-month subscription to Beyond The Green's Substack
Frequently asked questions
If you have anything else you want to ask, reach out to us.
Will my golf game improve?

Yes. If your thinking preferences under pressure can be improved, this method is designed to help you get there. If you already believe there is little room for improvement in mindset, this method is not for you.

I am a top-tier golfer. Is this for me? How will it help?

Yes. This method gives top golfers a slight edge over their competition by giving them an understanding of their own tendencies when under pressure, affording them valuable clues which they can work on in their own practice and with their own coaches.

Will my personal information be used to generate data for golfers more broadly?

Absolutely not. All data is private and only used for the purposes of the consultation. Occasionally Beyond The Green will analyse a 'celebrity swinger', a golfer with a public profile, to discuss more about their individual temperament when under pressure, what clues were generated and how that individual golfer responded to the program. The celebrity golfers fully approve their contribution to be used in print and online media.

How many golfers has Beyond The Green tested and what have the results been like so far?

Thirty top-tier golfers have undergone this method in the research phase prior to this course being publicly offerered in mid-2023. Of the 30, only 2 golfers did not see a significant shift in their thinking preferences under pressure, but they are both major golf champions.

If I complete the system and it works really well for my golf game and I refer a fellow golfer, will they receive a discount based on my referral?

Well, this is complicated. We are all looking for an edge on the golf course. Perhaps go and trial the system for a year or so and if you are thoroughly beating your friends it might be beneficial to let them know what the elixir is and yes, Beyond The Green will give you a discount code to give to your friend if you would like them to complete the testing too.

I have done the Beyond The Green testing and I am in raptures about it and I really want to tell my friends to do the testing also. Can I earn a referral fee by referring clients to Beyond The Green?

In some cases, yes. This is a case-by-case situation and anyone who has completed the testing will be in communication with Andrew Crockett, or someone at Beyond The Green, and we can discuss those opportunities after you have completed and applied what you have learned from the method.

I am a professional golf coach and want to learn more about the method and how it applies to my players. What does that process involve?

We suggest the golf coach to do the analysis and then discuss the ongoing work in the 90 minute debrief, where we can offer support to help the coach through the process with their player/s.

Is the Beyond The Green method unique

Yes. The Beyond The Green method is unique in leveraging the Hermann Whole Brain® Thinking Model to golf, and a patent application is currently in review by the U.S. Patents and Trademark Office.

Is the Beyond The Green method some sort of psychological test?

No. The testing is nothing to do with personality testing or 'psycho babble' and everything to do with looking at the golfers core thinking preferences and strengths when in ordinary situations and then looking at how those strengths might be diluted in the pressure moments.

Can I get a refund?

Generally speaking, no. Just as with any professional consultation expertise is applied to your situation and the results will vary depending on the individual. For some golfers the results will be profound, and for others the process itself could still be a valuable learning experience. If you are not satisfied with the consultation, we're always happy to discuss your concerns.

What is it about golf that makes pressure figure so prominently?

In 2017 Andrew Crockett had a hypothesis that golfers seem to struggle with pressure more so than other sports, and began a research project. The majority of participants saw significant improvements, confirming Andrew's hypothesis that golfers seem to struggle with the pressure moment. In fact, Beyond The Green is of the opinion that it is how we respond to pressure and the joy of (occassionally) overcoming it that drives us to play the silly game in the first place. (Note: Golf is the greatest game ever played).

Does Beyond The Green do group discounts if two or more golfers do the testing together at the same time?

No. All testing is one-on-one, as each person is unique.

If I book the testing/analysis today and complete it, how long will it take until I have finished the process, done the personal debrief and can apply what I have learned?

Beyond The Green guarantees to complete all 90 minute debriefs within 14 days of when the customer has completed the testing, but given the availability of the immediate calendar, often the process is completed within 7 days of testing. Expedited service is available for an additional fee.

Is the Beyond The Green method beneficial for golf coaches?

Absolutely. Not only will it help the coaches have some tools to apply to their players, but it also shows the coach some valuable insights which will help the coaches in their communications with their players. The method has been used by some top tier sporting teams, to great success and we can happily point you towards those success stories in the coaching capacity.

I'm not a professional golfer. I play once a month off a handicap of 20. Is this for me?

Not really.This method is applicable to top-tier professionals and golfers who have applied themselves to become A-grade players.

Do I get any ongoing support after the consultation?

Yes. Ongoing email and phone consultations are available to clients who have completed the initial consultation. Clients also receive a complimentary 12-month subscription to curated content on golf history, interviews with legends of golf, celebrity swingers and golf videos created by Beyond The Green.

How is Beyond The Green applicable off the golf course?

The testing is more generically used in a corporate and team building environment, where professionals learn to understand their strengths and weaknesses and those of their team. Once the method is understood, then the individual begins to recognise how other people in their team function at their best. Any golfer who completes the testing will have a much more solid understanding of their tendencies generally and also how those tendencies shift when feeling under pressure.

Beyond the testing, analysis, and debrief, do I receive any physical product or certification as reference?

Yes. All participants receive a colour printout of their unique profile and bullet point personal summary of the key findings. The results are also available on a dedicated phone app, with a unique pin code to access your results. Further, each participant becomes part of the Beyond The Green family, with a free subscription to unique golf content curated by bonafide golf writer and historian, Andrew Crockett and others

Does the Beyond The Green method work for other sports, like tennis?

Maybe. With tennis, particularly, the Beyond The Green method has been shared and is currently being investigated with some well-known top-tier tennis coaches. A former Wimbledon champion is trialling the system with some of his students. Moreover Beyond The Green is exploring the method with other top-tier athletes and coaches, to offer further insights and tools they can use on and off the golf course.

Is the Beyond The Green method only for good golfers?

We do not offer the testing to golfers who are on a handicap of more than 9.

Is the testing open to men and women?

Yes, of course.

Is the testing suitable for children?

We only offer our service to people over the age of 18, unless they are accompanied by a bona fide golfing coach or an academy that has engaged Beyond The Green to illustrate the methodology to a top level amateur. We are already in communications with several notable golf academy's.
Andrew Crockett
Beyond The Green Founder
Growing up on the East Coast of Australia in a mostly horse-orientated family, my first exposure to golf was in the late 1980s, while on holiday with my grandparents, on the seaside links of Aldeburgh in Suffolk, England. I was 12 years old.
Always keen on sport, and proficient at most of them, but golf hooked me…. and, thanks to expert tuition by my late grandfather, Mickey, I was a scratch golfer as soon as I could shave. Sadly in my late teens my professional ambitions were derailed due to chronic ill health (Crohn's disease) and my life has been on a different pathway ever since.
I became a writer.
Golf and surfing seduced me. They absorbed my youth and then filled my adult life with a sort of dream like existence of meeting many of my childhood heroes, being able to interview them for magazine and book projects (see SwitchFoot surfing books). Surfing media was my starting point, which led to many successes, including being inducted into the Australian surfing hall of fame for my contributions to the sport (2006), travelling the USA and UK with book tours and surfing films.
I will always credit my further expansion into golf to a serendipitous meeting of iconic Australian golf course designer Ross Perrett, who I sat next to on an international airplane flight from Los Angeles to Melbourne in 1999. Ross, at the time, was the business partner of Australia's greatest ever golfer, five times British Open champion, the late Peter Thomson AO. I say greatest, because he was. Getting to know Peter Thomson was truly the springboard for me to push further into the golfing world and the things he shared with me form so much of my understanding of the greatest game of them all.
In 2013 I was invited by IMG to launch my golf history book 'Bump & Run' at the World Cup of Golf at Royal Melbourne, Australia. The years of research in that book, the subsequent magazine work for Inside Golf magazine, the Surfers/Golfers Journal (USA) and occasional writings for Golf Digest and other magazines led me on a path of interviewing the true greats of the game and forming relationships with other golfing enthusiasts all over the world.
I have been very fortunate to spend my life in sports and engaging with inspirational athletes who are at the top of their profession in golf, surfing, football, cricket, triathlon and tennis. From each of these people I draw my insights, engage with the golfing community and hopefully learn more about myself in the process.
In golf, I have been very fortunate to interview and spend time with Peter Thomson, Jack Nicklaus, Gary Player, Tom Watson, Karrie Webb, Jan Stephenson, David Graham, Billy Dunk, Kelly Slater, Sir Bob Charles, Bob Shearer, Rory McIlroy, Peter Toogood, Vijay Singh, Sergio Garcia, Adam Scott, Kel Nagle and many others.